I harvest honey from West Essex locations near Harlow – Hastingwood, Old Harlow and Matching Tye .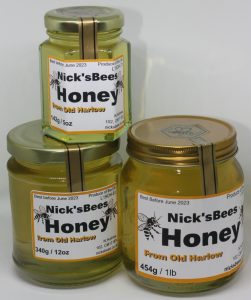 The bees' forage varies from allotments, wild flower gardens, oil seed rape, bean and borage fields.
This honey is spun out of the honey frames, warmed (gently, not to damage it or affect any enzymes) and lightly filtered (just to remove wax not pollen).
3rd Saturday of the month Nick's Bees honey can be found on sale at Matching Tye Farmer's Market
I also sell my local honey from home in Old Harlow, Essex, CM17 0DL – contact me at wwwcight@gmail.com or leave a message below if you'd like to buy some.
1lb (454g) for £6
5oz (141g) for £2.70
Bees wax polish £3.50 – both hard and soft recipes
Subject to availability I also do :
chunk honey £7.00 – with chunks of honey comb in
cut comb (price by weight) – piece of honey filled comb in a box
Beeswax Candles – moulded and rolled